A potential home buyer would mostly rely on the inspection process to find out if there are any issues in the property. This is done before the deal is finalized so that they do not end up purchasing a property that has multiple problems, else it could cost them thousands of dollars in the repair work. Thanks to the Thermal imaging inspection process, this work is getting easier and done in a professional way.
As opposed to the conventional method, the use of thermal imaging inspection provides results on those parts of the property which were earlier difficult to reach. Hence, the client can get a complete review of his or her home even from a particular distance. All they need is to point-out the camera screen towards that part of the home and the results would appear on the screen.
There are various companies who look into the manufacturing of such thermal imaging cameras. Flir is a leader in designing, developing and manufacturing of latest technologies that creates awareness and also enhances perception. They create innovative products through thermal imaging, visible light imaging that can be used for improving our daily life. Today, let us talk about one of its world-wide known product, the thermal camera that is used for inspections.
FLIR THERMAL IMAGING CAMERA:
Thermal imaging cameras offered by FLIR are considered to be an amazing device to view those things that cannot be seen through naked eye. These cameras reveal a lot of information which are not easily detected. It is a gateway to unknown problems which tend to stay hidden and only crop up once they become grave causing huge damage.
But these cameras are better handled by an expertise who has knowledge and experience in the field. The images that appear on the camera screen post the scan would need to be interpreted. There are color spots that get displayed on the screen and only an expert can pin-point exactly where and how much is the issue.
FLIR pocket size thermal cameras:
This pocket size thermal deviceare a great tool for inspection of building, home or any other property. It is the go-to tool when you need to buy a new property or planning to carry out maintenance work of any facility. As the name suggests, it is a slim looking camera that can easily fit in the pocket of the user.
So you do not need to carry those heavy looking gadgets everywhere. These can be taken anywhere and anytime. This device has a touch screen feature so that you can start working on it easily. This camera is also Wi-F- enabled so that you can easily share the results report with your peers. Due to the high-thermal sensitivity technology, it can easily detect even small differences in the temperature.
Pro-Grade Camera for Smartphones:
Another user-friendly slim thermal camera from FLIR's list of product. These cameras can be easily carried anywhere and the user can start his work at the touch of a button. The camera helps to find any of the hidden issues in the property, it can also document the repairs and share the results instantly through Wi-Fi.
The result that you receive is an undiluted thermal image that has visible Address light features. This result allows the user to recognize any of the hidden issue instantly with the help of the heat pattern that gets generated. With the high-thermal sensitivity technology, the camera is able to detect even the slightest change in the temperature.
Handheld Thermal Cameras:
Cost-effective and powerful handheld cameras from FLIR is available in multiple-series. This is an easy to use tool that can help in detecting any existing problems in the building or home. It is used for identifying any mechanical and electrical issues. There are four different resolution options available so that you can fit the target area easily even when it comes to working from a distance.
Once the camera is pointed at the area of scan, you can get to view the results instantly on the screen. Due to the FLIR mobile app, you can also connect the camera to your tablets or smartphones. With the help of FLIR tools, you can also analyze and edit the images for creating reports. This is a budget-friendly camera which is a good replacement for the earlier IR thermometers.
Issues that can be identified with FLIR cameras:
Leaks within Concrete:
Slab leaks are not easily identifiable hence by the time one gets to know about the leak, it can create huge damage. But thanks to thermal imaging camera, identifying such slab leaks becomes even more easier. Today most of the homes across the country are built with the use of concrete.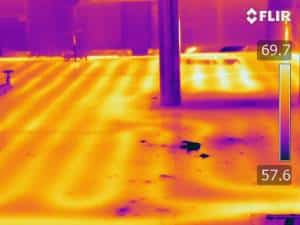 FLIR thermal cameras help to make the process of identifying any such issues within the concrete slab easy. The thermal sensitivity and high resolution technology camera from FLIR is a great combination in identifying such leaks. The FLIR MSX technology (Multispectral Dynamic Imaging Technology) is a great combination of picture overlay when it comes to visible and thermal image for receiving enhanced image on the camera screen.
Electrical Issues:
Electrical issues can be easily detected with the help of FLIR thermal cameras. These issues are best identified when they are minor and before they turn out to be something major. An electrical issue when not paid heed to can cost you thousands of dollars and in some scenarios it can also lead to loss of human life or property.
Thermal cameras can be used for detecting possible leak, breaker boxes, compressors, fuse and wire overloading etc. Thermal cameras can help detect possible electrical issues both at home or office. When it comes to electrical inspections, you would need a high-end thermal camera that can easily detect even the slightest of change in temperature.
FLIR thermal imaging cameras have the best quality and much needed features that would help the inspector concerned in completing the work of scanning. The FLIR E75 is a perfect choice for detecting electrical problems. This model of camera has also been awarded with MSX technology.
This thermal camera also has an additional feature of report generation that makes it easier for generating the custom made report on the spot itself once the scan is over.
Heat Loss:
Heat loss is known to account for around 50% of the complete energy consumption in any building. The heat loss can occur due to leakage of air from chimneys or wall vents. For any occupant to feel healthy and safe in a premises, it is important to have adequate air exchange.
However, most of the buildings today are said to be having high rate of air leakages. Lack of proper design or construction leads to such air leakages in and out of the building. Conventional methods are not helpful in detecting such leaks. But thermal imaging cameras can help in identifying the exact source of such air leakages.
FLIR thermal imaging cameras are one of the most valuable home inspection tools currently present in the industry. They assist in revealing any missing insulation, compromised roofing or issues with any of the equipment's.  Detecting any such problem area through naked eye is difficult but FLIR thermal cameras can get this difficult job done much easily.
It also provides convincing reports wherein one can identify areas that need improvement and also how well they can be completed.
Detecting moisture damage:
Moisture is considered to be a leading cause for the growth of mold and other health hazards. Hence inspectors are becoming even more vigilant to check each and every corner of the house for the presence of any such leaks. Damage caused due to weather and floods has also led to an increase in the need for such high-end tools that can quickly diagnose the presence of such leaks.
Often through conventional methods, certain areas where moisture is present tends to get overlooked. Ultimately it can lead to great damage of the property in addition to health hazard. Hence most of the inspectors are now turning towards the route of thermal imaging cameras.
FLIR thermal cameras can easily detect the presence of moisture even in those parts of the home where otherwise it becomes difficult. The use of infrared technology has shown great success in the past when it came to detecting roof failures. Take help from an expertise to interpret the results mentioned on the camera screen.
Detecting presence of pests:
The use of infrared technology can also be done for detecting those nasty pests hidden in remote corners of the home or building. For any home owner, termite, pests or rodent attacks are the worst nightmare and it creates a fear in the minds of the occupants. Termites once they enter any dwelling, they do not take much time to grow rapidly and also regulate the temperature.
This is what gets caught in the FLIR thermal cameras. The temperature differences created by these pests can be easily caught in the FLIR thermal camera. You can go in for an infrared camera that has high-resolution and is able to easily identify any minor changes in the temperature. Based on the conditions of the atmosphere, the infestation of termites may appear as either cold during summers or hot during winter time.
In most of the premises we have seen that termites often target the unseen wall framing and they often go undetected for months. Even through conventional mode of inspection, it becomes difficult to identify such infestations. FLIR high-end thermal cameras have now changed the world of home or office inspections. Identifying termites, rodents or any other pests has become even easier.
The Wi-Fi enabled properties in most of the thermal cameras provided by FLIR is a great tool when it comes to inspection. The report can be easily shared on the smartphone or sent to the client sitting far off. This makes it easier for the inspector to explain to the owner on what exactly is going on in their property even when they are sitting miles apart.
FLIR cameras are a new revolution in the industry of home inspection. This technology has helped a lot of home and office occupants in detecting problems on a timely basis so that they could come up with quick resolution. For those who are still wondering whether thermal cameras are the go-to solution, then think no further. This is the right time to invest in a budget friendly FLIR camera and keep your home or premises free from any untoward issues or incidences.