Infrared thermographic inspections are the latest trend in the home and buildings inspection industry. The infrared thermographic technology is preferred because it is easy to use, and it is precise and accurate. The technology has continued to evolve over the years, and it has become more effective and accurate. However, the accuracy of the infrared thermographic camera to some extent depends on how the user handles it.
In as much as infrared thermographic inspections are not rocket science, especially for homes, you need a certain level of expertise to be able to carry them out. In this article, we are going to explore several ways in which one can ensure they are getting the most accurate results while conducting infrared inspections. Before we get there, let's just get a quick recap of how infrared thermographic cameras work.
Infrared Imaging Cameras
These little gadgets, and sometimes large, are the real deal. They work by capturing infrared rays emitted by various objects. They use this emission to calibrate the temperature of a different object. Infrared inspections are mainly based on temperature differences. Different objects under certain conditions are expected to have certain temperatures. Abnormalities in these temperatures often depict that there might be a problem.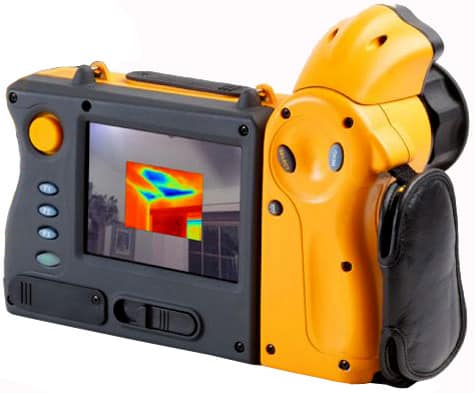 Infrared imaging cameras are mainly handheld, and all you go to do is point them to the object or section you are inspecting.  They will feed you back a colored image of the point of view. It is not an exact image of the object, but a heat map. The different colors depicted show the differences in temperatures. These colors enable inspectors to quickly call out abnormalities and take a closer look. The colors range along the wavelength spectrum.
Now let's get to how you can increase accuracy during infrared inspections.
Get a Quality Camera
We've just described how the infrared imaging camera works above. Your inspection can only be as accurate as your camera allows you to be. As the inspector, especially a professional one, you must have a quality camera. The features of a great infrared imaging camera include;
All the factors outlined above are basically what you should be looking for when you go looking for an infrared imaging camera. Even is some of them have nothing to do with accuracy, they will allow you to do your work conveniently and hence produce better results. Temperature measurement capabilities and sharp images are the main issues when it comes to accuracy. There are many brands of infrared imaging cameras out there, and you must know what makes a great infrared camera.
While it may seem like a very obvious thing, many inspectors fail to properly prepare their cameras and end up not getting accurate results. Before commencing the inspection, there are some common practices that involve checking the readiness of the camera. It is important to always conduct these checks to ensure your camera is ready to rock and roll. The checks include;
Inspection Expertise and Experience
We've mentioned before that infrared inspections are not so difficult that you cannot inspect your home yourself. You just need a good camera and an understanding of the basics of the process. However, it makes a lot of difference when you have relevant expertise and experience. That is why professional inspectors exist. Establishments such as factories and large commercial and residential buildings require the attention of trained and experienced inspectors.
The process if not about capturing heat map images. It is also about analyzing the images and being able to make split-second decisions. Focus is therefore very key if you are to ensure accuracy. Inspectors have to remain very focused, which is quite difficult at times, to ensure they do not miss anything. Remember infrared inspections are a non-contact method of inspection. A hurried inspection that does not pay attention to every detail will most likely leave a lot of issues behind.
Experience infrared thermographic inspectors like to manually focus their imaging cameras. They understand the level of detail they are looking for in order to ascertain the condition of various sections of the house. They know how their way around the imaging cameras, and how to get the best out of them. The following are some tips that you could use to ensure you get the best results from your imaging camera.
Field of View and Resolution
Your field of view determines the resolution you get on the image. A large field of view will have less resolution, and vice versa. High resolution is always desired in order to get finer details. You are supposed to zero in on the Field of View until you get the desired resolution.
The resolution of an image can be measured in two ways. One is the detector resolution which is measured in pixels, and the spatial resolution which is measured in mRads. Every single detector pixel picks up the apparent temperature of the surface it covers on the target. As such, better resolution means more accurate temperature measurements. Spatial resolution helps to define the Field of View. It is used to determine the area on the object that the imager captures at a given moment. These measurements help the inspectors understand the effectiveness of the imaging camera with regard to the size of the objects being investigated. Low spatial resolution value implied better image quality and finer details.
Thermal imaging when done properly with a good quality imaging camera produces some impressive results. It increases your troubleshooting and inspection efficiency as an inspector. Below are some guidelines that are commonly followed in order to enhance that efficiency and keep the workers safe as they interact with various systems.
Thermography-Specific Inspection Process
Processes are very essential, especially in a professional setting. They help maintain standards and consistency. They also offer better chances of getting accurate measurements. Each inspection agency can come up with its own inspection process depending on the equipment and kind of training they have. Below is an outline of the general steps expected in an inspection process.
The bottom line is, infrared inspections are very accurate and effective if they are done properly. The main things are to have the right equipment, know how to use the equipment, and follow the right processes. Infrared inspections are the main type of inspections in the home and buildings inspection industry today. They provide accurate and reliable results. They also help ensure all faults and impending problems are caught before they actually occur. We could go on and on about the benefits of infrared inspections, but that should probably be a story for another day.